From The Desk of Managing Trustee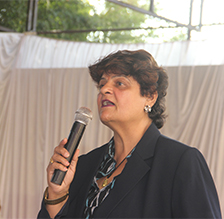 I have a great pleasure to mention that school has completed 17 years of its existence in imparting quality elementary and primary level education to rural children, who are coming from nearby villages by following good school management practices and innovative initiatives. We are satisfied in fulfilling our mission & objectives in creating a platform for rural children who are deprived of getting education in an affordable manner at their doorstep. We are delighted to be associated in supporting & meeting with the objectives of the National Literacy Mission in improving level of literacy specially in Rural India. We have also implemented the Right to Education Act (RTE) in our school giving admission upto 25% to BPL children who are from SC/ST & other backward communities. I am proud to mention that this year we have enrolled the highest number of students under the right to education programme in Savili Taluka (Vadodara District) of Gujarat India.
The school, apart from setting benchmarks in quality education and making learning fun, has also taken up different innovative initiatives to ensure the holistic development of the children and promote the right values. We put more emphasis in developing social skills of working in a group and communicating with one another without any religion / caste, colour barrier. Hopes will rekindle the love and bonding in order to grow / realize his/her full potential that is much desired for a healthy and value based society. We have reached up to upper primary level ( 8th std.) and plan to expand school facilities for imparting education to Secondary level ( high school) in next 2-3 years. This has become possible because of kind support I have received from everybody in making this pilot project a successful one. I want people from the elite group should join me in spreading education across Rural India in order to make India 100 percent literate. You can contact me any time to share your thought on my efforts in making this as model for replication in other villages.
I once again thanks all for maintaining school rules and regulations in making conducive envirovement which is needed for effective and deep learning .
Sincerely yours,
Anju N. Kapoor
(Managing Trustee)